Layer 3 Managed PoE Switches - 10G, Network Switches – PoE, Routing & Switching  - UniFi, Switches, Ubiquiti, UniFi
UniFi® Switch Pro 48 PoE Gen2

---
Model No: USW-Pro-48-POE
(40) Gigabit RJ45 ports with 802.3af/at

(8) Gigabit RJ45 ports with 802.3bt

(4) 1/10G SFP+ ports


1U Rackmountable (hardware included)
රු357,610.00
Expand and power your network with the UniFi® Pro PoE Switch, part of the Ubiquiti® UniFi Enterprise System.

Layer 3 Features
In addition to Layer 2 switching protocols and features, the UniFi Pro PoE Switch offers Layer 3 capabilities*, such as inter‑VLAN routing, static routing, and DHCP server functionality (Available in a future software release).

Innovative Display
The 1.3″ touchscreen displays status information for easy monitoring and quick troubleshooting.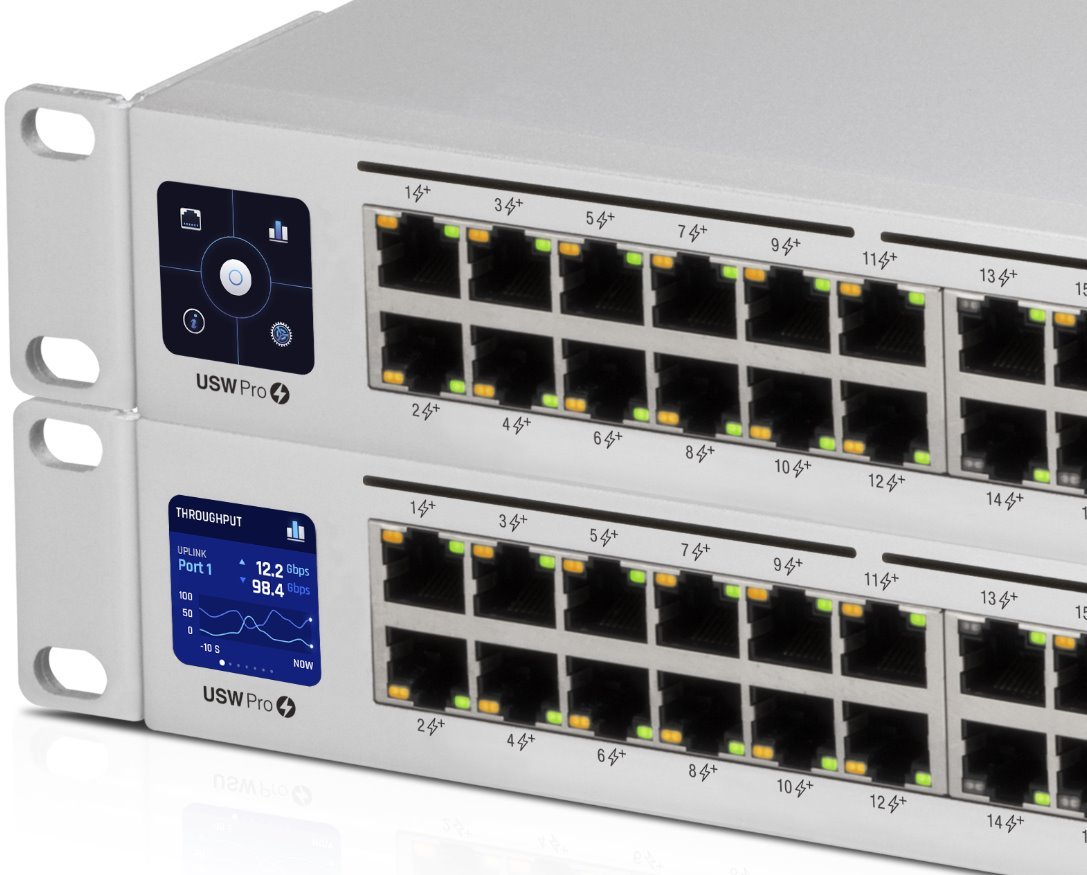 Near-Silent Cooling
The UniFi Pro PoE Switch can be located in any workspace. Its integrated fans have built‑in PWM (Power Management) control, air ducts and covers, and temperature sensors for the best user experience.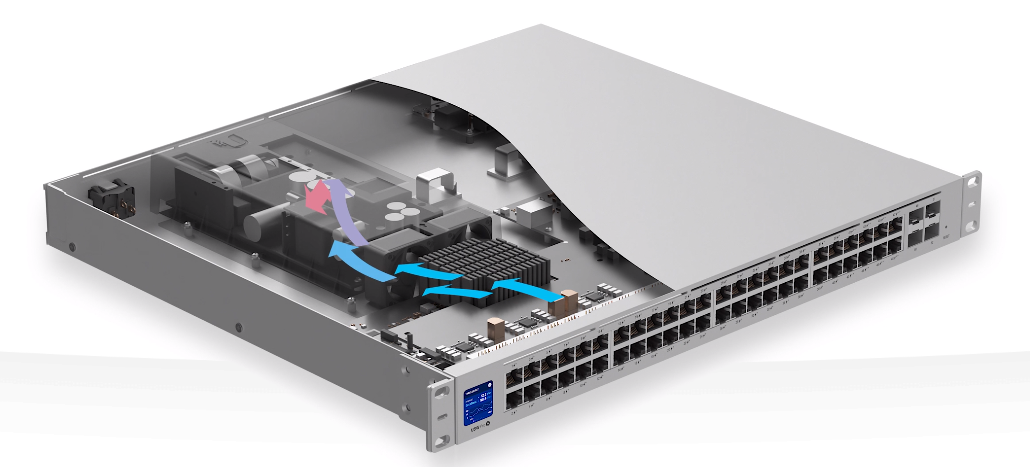 Fiber Connectivity
SFP+ ports enable high‑capacity uplinks of up to 10 Gbps, so you can directly connect to a high‑performance storage server or deploy a long‑distance uplink to another switch.
802.3bt PoE++
PoE support simplifies your network infrastructure and cabling. Eight ports offer 802.3bt PoE++ to provide up to 64W of power (per port) to your high‑power PoE devices. Remaining ports offer 802.3af/at PoE.

Redundant Power Option
The UniFi Pro PoE Switch supports an external DC input interface, the proprietary USP RPS interface, as a redundant power feature for backup if the internal PSU fails.
Dimensions
442.4 x 399.6 x 43.7 mm
(17.42 x 15.73 x 1.72″)
Weight
With Brackets
6.25 kg (13.78 lb)
6.34 kg (13.98 lb)
Interfaces
Networking
Management
(48) 10/100/1000 RJ45 Ports
(4) 1/10G SFP+ Ethernet Ports
Ethernet In‑Band
Total Non‑Blocking Throughput
88 Gbps
Switching Capacity
176 Gbps
Forwarding Rate
130.944 Mpps
Power Method

Universal Input
USP RPS DC Input

100‑240VAC, 50/60 Hz
52VDC, 11.54A; 11.5VDC, 5.22A

Power Supply
AC/DC, Internal, 660W
Voltage Range
100 to 240VAC
Max Power Consumption (Excluding PoE Output)
60W
LEDs

System
RJ45 Data Ports
SFP+ Data Ports

Status
PoE; Speed/Link/Activity
Link/Activity

ESD/EMP Protection
Air: ± 16 kV, Contact: ± 12 kV
Shock and Vibration
ETSI300‑019‑1.4 Standard
Operating Temperature
‑5 to 40° C (23 to 104° F)
Operating Humidity
10 ‑ 90% Noncondensing
Certifications
CE, FCC, IC
Total Available PoE
600W
PoE Interfaces

Ports 1‑40
Ports 41‑48

PoE+ IEEE 802.3af/at (Pins 1, 2+; 3, 6‑)
60W PoE++ IEEE 802.3bt (Pair A 1, 2+; 3, 6‑) (Pair B 4 , 5+; 7, 8‑)

Max. PoE Wattage per Port by PSE
802.3at
802.3bt

32W
64W

Voltage Range

802.3af
802.3at/bt

44‑57V
50‑57V
Based on 0 reviews
Only logged in customers who have purchased this product may leave a review.
Do you have a question?
Drop us a line by compiling the form below. We will be more than happy to reply to any of your questions!